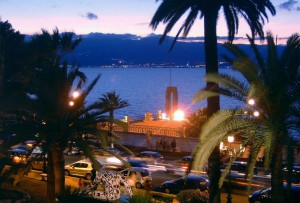 A country of nymphs and sea monsters, of fairies and heroes. Land of spells and witchcrafts, extolled by D'Annunzio, celebrated by nineteenth century British travelers: Reggio Calabria feeds its magic, hanging between fable and reality … Projected towards a mediterranean future, retains all the warmthreassuring the provincial town and the attractive charm of the resort turistica.I landscapes, the vegetation, the colors, the scent of orange blossom and bergamot: the Mediterranean being of Reggio Calabria shows with a surprising variety of suggestions.


The promenade is its perfect synthesis: an apotheosis of palms, ficus, very rare tropical and exotic species, a few meters from the shoreline, one of the most beautiful scenery in the world.
Between nature and history, culture and tradition, amusement and curiosity. A journey to discover the city of Fata Morgana (natural phenomenon that creates a magical vision: the hot summer temperatures and the calm sea, the city of Messina projecting its image on the waters of the Strait appear suspended over the water, closer to shore Reggina , creating a unique image fusion between the two cities). Reggio Calabria is a city of art and science, jealous legacy of a glorious past but outstretched towards a future of development and progress..
The National Archaeological Museum preserves magnificent and ancient memories of the prehistoric, Greek and Roman, and the vigorous Riace warriors seem to defend such a great richness; art has its symbolic place in the Teatro Comunale Francesco Cilea, which today relives the splendours of the past.
For more info: turismo.reggiocal.it
Reggio Calabria Gallery