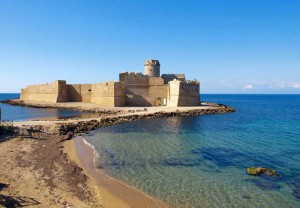 Isola Capo Rizzuto is located within the marine protected area of Capo Rizzuto. It is not an island, but a long promontory. In the old town there are remnants of the sixteenth-century fortified complex of Feudal Castle (in S. Marco), built in medieval period, expanded in 1549 by the Neapolitan feudal lord Giovanni Antonio Ricca.There are also remains of angular square towers rammed, relics of the walls of the perimeter curtain with PIVELLINA, "Clock", and the Gate of the medieval village, topped with a back of the watch tower, which divides the old area from the more modern .
On the coast there is the "Old Tower", a cylindrical tower with massive scoring to stone blocks, built in sec. XVI coastguard against barbarian incursions. The tower was guarded by a corporal and a soldier, who had the task of monitoring day and night and report the presence of suspect vessels with special signals: smoke during the day and bonfires at night. Access to the interior of the tower was done by a rustic wooden drawbridge.
The population of Le Castella, is the famous fortress, the sixteenth century, on a small peninsula jutting out over the sea. It was built to counter the frequent invasions. Important are the monumental hollow blocks and drums of the Greek period column (VI-III sec. BC) on Punta Cannone and in the port area.
Isola Capo Rizzuto Gallery