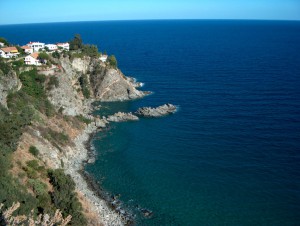 Located on the Gulf of Squillace, on that beautiful stretch of coast called Costa degli Aranci or Coast of the Saracens, the entire territory of Copanello is characterized by lush hills of the typical Mediterranean flora and fauna and white granite cliffs that slope gently down the sea, creating beaches of fine sand, mixed with huge cliffs perforated granite in places with caves where the sea creeps up, the most famous of which is San Gregorio, between Copanello and the nearby Caminia fraction.
The Copanello coast is extremely impressive, especially at the time of dawn, when the first sunlight, investing it with light, creating a spectacular surreal landscape. At times the coast is divided into a very large and picturesque beach, always cooled by the gentle refreshing breeze, characterized by a golden or white sand coastline, punctuated at intervals by the dramatic cliffs that seem to remember the Amalfi Coast.
The sea is blue and turquoise shades, ideal for swimming, bathing and with excellent conditions for snorkeling enthusiasts.
But these same waters are also a favorite destination for diving: once they leave the beach, you will discover a new world; at a depth of between 0 and 10 m you can explore a sandy bottom, with reefs that form in places archways and siphons.
Wonderful marine wildlife: between the soft sand you can see beautiful anemones and beautiful shells, rocks and rocks are often covered with brown algae, peacock tails, sponges, brightly color and curly. In the submarine caves they are hiding many brittle stars and among the stones are moving fast blennies and grouper. The whole is surrounded by shoals of damselfish, glances, bream and mullet, mullet and without forgetting weaver who prowl, too, on the sand. Sometimes, so at least it is said on the spot, you can discover various fragments and ancient artefacts.
Copanello Gallery